Soldier-cartoonist: Private Charles "Chas" William Holt, 16th Sherwood Foresters [Unconfirmed]
Private Charles "Chas" William Holt, 16th (Chatsworth Rifles) Battalion, Sherwood Foresters (Nottinghamshire & Derbyshire) Regiment
Service Number: 26643
Born: 7 February 1880, St Mary, Nottingham
Died: 14 January 1954 (aged 73)
A son of a wheelwright, on 9 September 1914, aged 34, Holt enlisted for three years, initially with the Seaforth Highlanders. His civilian occupation was recorded as a clerk, and he was transferred to the 13th Service Battalion Sherwood Foresters shortly after enlisting. He was, however, discharged, in December of the same year, for being medically unfit. From his records, it appears he had previously had surgery for emphysema that left a scar on the left of his chest.1
He reenlisted in May 1915, this time with the 16th Battalion Sherwood Foresters. There is a discrepancy in his discharge papers over age and occupation — he was now listed as a stoker — but the home address and scar tie the two records together.
He went to France in the Spring of 1916, where he would remain for two years. In the spring of 1918, when he would have been defending against the German spring offensives, he was captured at Voormezeele, south of Ypres, and would spend the rest of the war as a POW, returning home in January 1919. His discharge papers note that he had lost all of his teeth.2
In later life he became the Transport Manager for Shipstones Brewery, Nottingham.3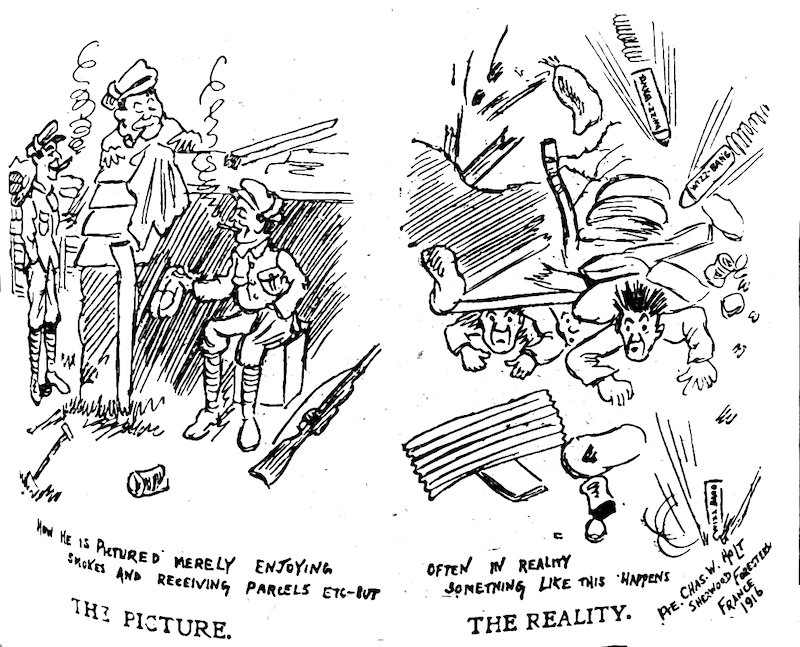 Identification is based on there only being one CW Holt in the Sherwood Foresters, and his date of death matching an obituary. If you can provide any further information, please do get in contact by either leaving a comment below or dropping me an email from the link in my bio.
Posts in this Series
comments powered by

Disqus