Soldier-cartoonist: Corporal Robert Birrell, 17th Highland Light Infantry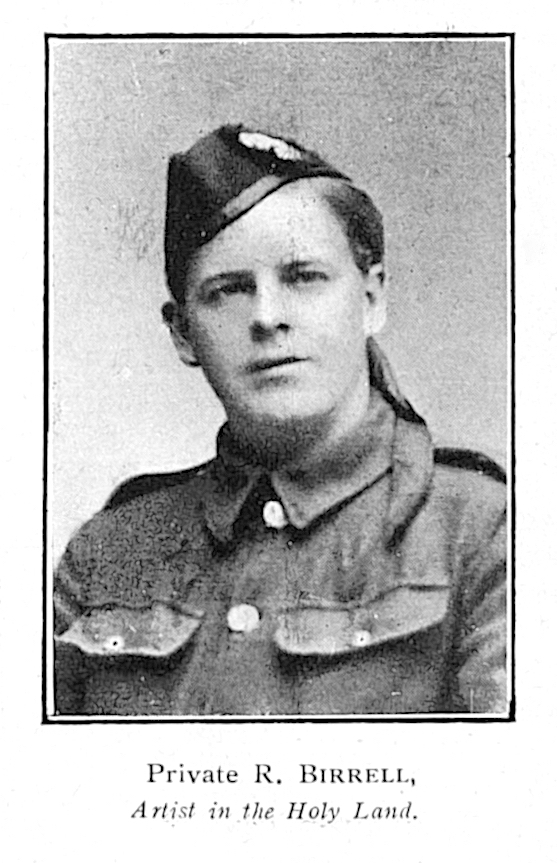 This is the first entry in an ongoing series documenting soldier-cartoonists of the First World War, including those who had contributions published in the magazine Blighty, those who contributed to Trench Journals and Unit magazines, and those who kept sketchbooks and other ephemera.
Corporal Robert Birrell, 17th Highland Light Infantry
Service number: 2898
Birrell is certainly one of the most prolific soldier-cartoonists I have come across during my research. He served in the motor pool and was one of two regular cartoonists on the Outpost: magazine of the 17th Service (Glasgow Chamber of Commerce) Battalion Highland Light Infantry, the other being Lance Corporal J. M'K Thomson. Between 1915 and 1919 he drew approximately 150 cartoons for the magazine — providing a fascinating record from his early days undertaking training in Codford East Down camp, Wiltshire, to Cailes camp, Ayrshire, and moving to the Western Front in 1916. Birrell's path would later take him to Egypt in 1917 and later to Palestine. The cartoons then continued to record the armistice in 1918, the battalion being stationed on the Rhine in 1919 — awaiting demobilisation, and his final cartoon — and the very final feature to appear in the Outpost — was a simple Silhouette drawn by Birrell with the word 'Farewell'.1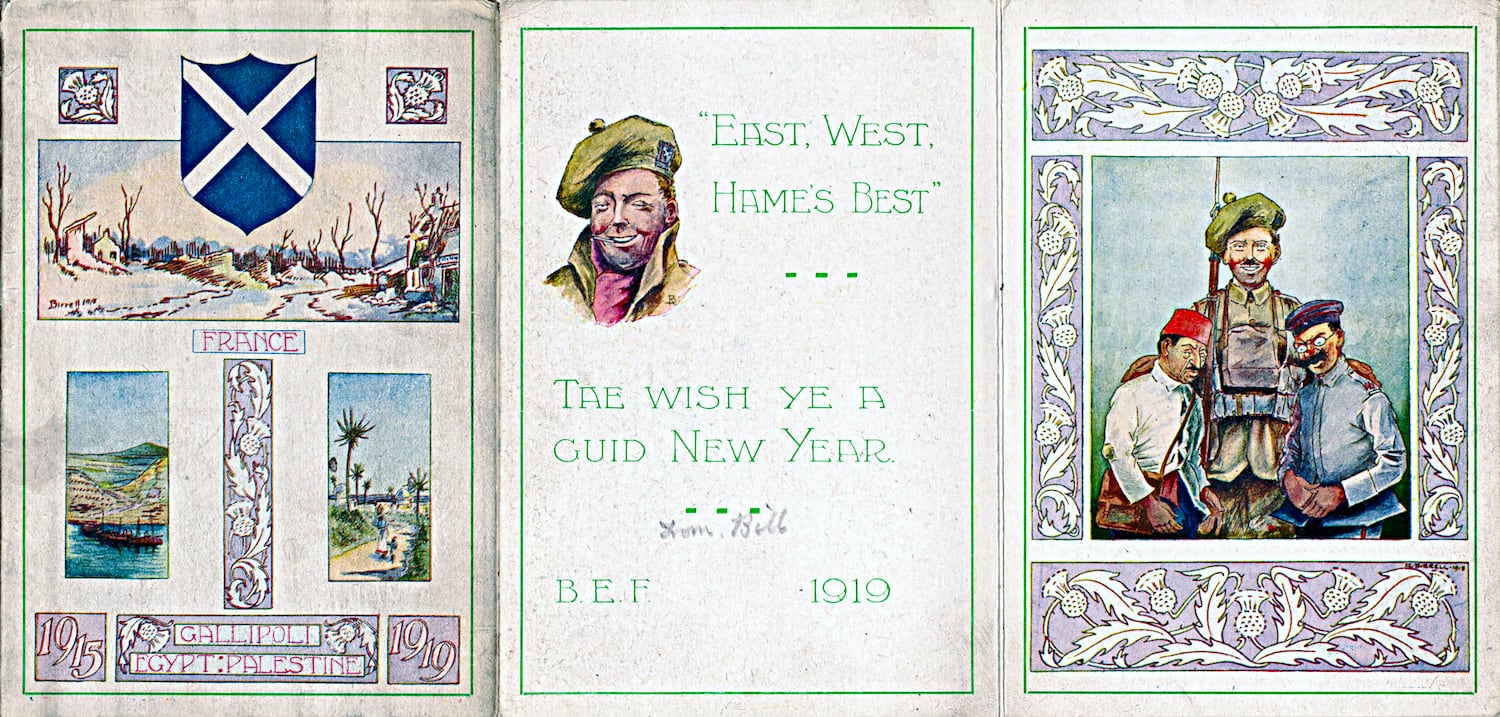 In addition to drawing his own cartoons, he also took the time to draw ideas from other soldiers as well as designing items such as the battalion's Christmas card on more than one occasion. He was involved with the organisation of concert parties and found time to illustrate one of his pal's collections of poetry, Lance Corporal Frank K Pickles' Rubáiyát of a Ranker (1918). Being injured at the end of 1916 had little effect of his output as he used the time to send in a cartoon to the soldiers-newspaper Blighty (pictured below). It is therefore not surprising to find that his peers regarded him as a 'real trojan'.2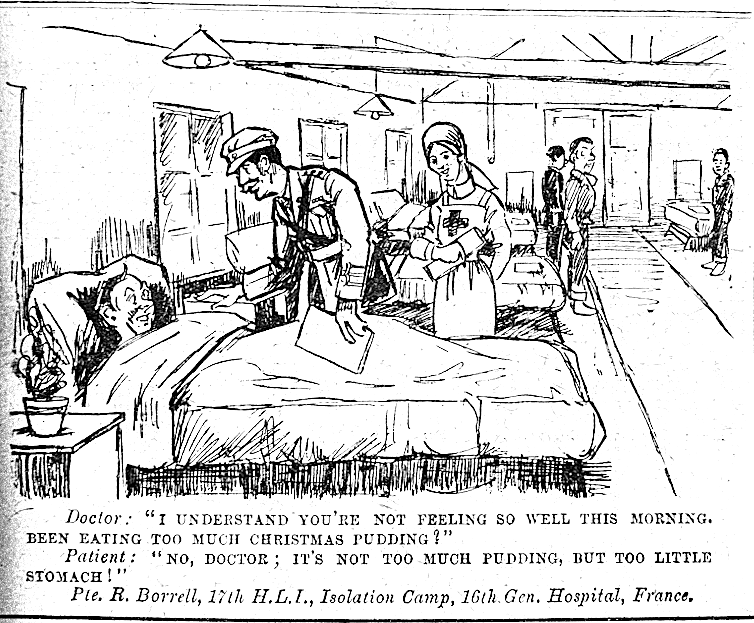 The records for Birrell are practically non-existent: it has been impossible to find any information about him before or after the war. Having spent time with his drawings and picked up breadcrumbs of information about him, my impression is that he was someone who really took the spirit of the Battalion and his fellow men to heart, someone you would have been glad to serve alongside with, which makes the mystery around him even more perplexing. If you do have any information, please do get in contact by either leaving a comment below or dropping me an email from the link in my bio.
One final thing I would like to say about Birrell: One of the cartoons that has stuck with me throughout my research is the one below from the Outpost. Even before considering the dangers of gas itself, the very act of wearing a mask was both a psychological and physiological ordeal. Both vision and hearing would be reduced, as well as breathing being impaired by the accumulation of carbon dioxide. Nose clips and bands to hold the mask would add pressure to the head, making the experience irritating, disorientating and, depending on the environment, the mask was either a sponge to accumulate sweat or a way for wet material to irate the skin.3
I can't help but imagine that the cartoon below would have at least taken a bite out of some of that discomfort.
Thanks to David McNay of the Scottish Military Research Group for the Battalions Christmas card.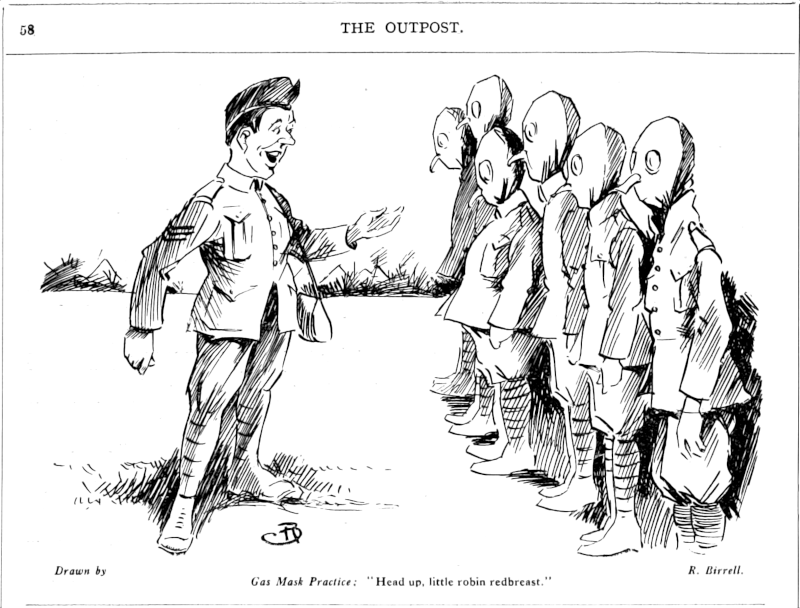 ---
The Outpost: Magazine of the 17^th^ Service (Glasgow Chamber of Commerce) Battalion, Highland Light Infantry, 1 May 1919, p.212. ↩︎

The Outpost, 1 March 1916. p.29; The Outpost, 1 March 1917. p.156; The Outpost, 1 April 1917, p.228; Sunday Post, 30 June 1918, p,8; Birrell also had a cartoon published in an edition of Blighty, a week earlier than the one in Figure 3, on 30 December 1916, p.10. ↩︎

E. Jones, 'Terror Weapons: The British Experience of Gas and its Treatment in the First World War', War in History, 21 (3) (2014), pp.11-12; W. Sibert, & G. Burrell, Chemical Development Section [And] Mechanical Research and Development Section; Summary of Achievements, 1917-1918, p.43. ↩︎
comments powered by

Disqus